Welcome to Game On Mohegan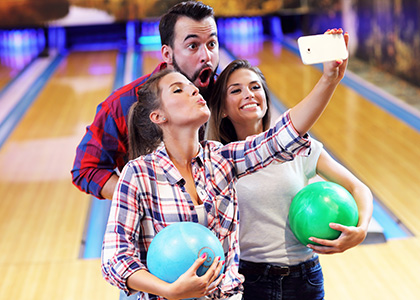 It's time to kick back, get social and have some fun, Our custom designed 23,000 square foot space is complete with craft beers on tap, artisan cocktails, fun food and an all encompassing Gaming Experience.
8 Bowling Lanes
85+ Arcade Machines
Private Karaoke Suite
Billiards Tables
16ft Shuffle Board Table.
Hours of Operation:
Tuesday 4pm-9:30pm
Wednesday 4pm-9:30pm
Thursday 4pm-9:30pm
Friday 4pm-12pm
Saturday Noon-12pm
Sunday 1pm-8pm
Age/ID Policy:
All persons must present a valid legal ID for proof of age.
In order to consume alcoholic beverages, you must establish that you are at least 21 years of age.
You must have a valid identification card issued by a state governmental agency containing your photograph, date of birth, height, sex and color eyes. Game On is unable to accept forms of identification that are expired, cracked, altered, or damaged in any way.
Please note: All forms of identification must NOT be expired Game On does not accept paper licenses as a form of ID. Game On staff may ask for back up identification at any time and for any reason.
Acceptable forms of ID are:
A valid in-state driver's license
Passport
Out-of-state license w/back-up
United States Active Military ID
House Policies
No horseplay or other disturbing or disruptive behaviors
Any person who damages Game On Property or equipment shall be held liable for its repair or replacement.
Dress Code
No excessively baggy clothing of any kind
No work/construction/hiking boots permitted (except during winter precipitation)

No bandanna

No undershirts or sleeveless shirts

No hats, clothing, jewelry or visible tattoos with profanity or objectionable art

Sunglasses may not be worn on the premises

All back packs and/or bags are subject to be searched by Game On Staff 
Please Note
Any activity if not played correctly, could result in the possibility of bodily injury. At NO TIME are the players permitted past the black bowling foul line or walk on lanes, gutters or walkways to retrieve balls, pins or take pictures. Correct footwear must be worn at all times and shoes kept clean and dry. Keep your hands out of the ball return system. If you need assistance or to report any mechanical problems, spills, or other concerns please contact management personnel immediately. GAME ON assumes no responsibility for damage or injury caused by player negligence.